Active Homebuyers Want Healthy, Functional, Low Maintenance Homes
55+, active communities with natural open space are a preference, especially due to COVID-19
By PETER DENNEHY
COVID-19 has caused much uncertainty in 2020, but it has brought clarity to the importance of home and community. Preference for open floor plans, customization options, multifunctional areas for socializing and a focus on wellness were all important trends for 55+ home shoppers prior to COVID-19. Now, the search for comfortable homes has also come to mean choosing homes that are safe, clean and healthy. In this time when we are looking to get outdoors while maintaining distance, we want those homes to be in neighborhoods where access to natural open space is an important design element.
Buyers Who Are 55+ Want Functional and Healthy New Homes
Home shopping for 55+ has always focused on right-sizing, quality construction, open floor plans, energy efficiency and lower maintenance for empty nesters. With COVID-19, clean new construction features and a renewed emphasis on health are added to the decision mix.
With a stock market seemingly unfazed by the ups and downs of a pandemic, low-interest rates and low supplies of existing homes, 55+ buyers are drawn to new construction options that offer the customizable product and appealing locations that discriminating buyers want. This buyer also looks to customize a clean, fresh place that fits how they want to live, which makes new construction especially attractive.
Shoppers in this demographic value the predictability of new construction and the peace of mind of warranties, newer technologies and built-in energy-efficiencies. Many are working with a fixed income, so the lower energy cost of new homes is useful.
Continual health and well-being prioritize places where access to natural, open space is an essential element in community design. Buyers want home designs that allow them to enjoy the outdoors in backyards and front porches safely.
Keeping socially connected while remaining distant also ranks high on a 55+ home shopper's list with importance placed on trails, open spaces, sports activities, clubs and wellness events that allow for safe mingling and movement.
Communities Designed for a Healthy, Sustainable Lifestyle
Buyers who are 55+ today value a healthy, active lifestyle, and they want a community that makes this easy and convenient. Newland communities across the country offer a variety of 55+ housing options that are designed with active, healthy living as an important community element.
Buyers who are 55+ today value a healthy, active lifestyle, and they want a community that makes this easy and convenient.
Two-thirds of baby boomers want walking and jogging trails in their community. Briar Chapel, a Newland community, located near Chapel Hill, NC, features low maintenance, single-level homes at Encore by David Weekly. Briar Chapel features nearly 900 acres of open space, slopes and stream beds, and thousands of trees that were preserved from construction, making the outdoors a part of everyday living. With over 30 parks within the community, residents and local wildlife enjoy a natural and mindful habitat outside their doors.
Having walkable amenities and open spaces encourages a healthy lifestyle and also improves the environment by decreasing vehicle miles driven. Biking is also a way to combine exercise and run errands, and Briar Chapel has 24 miles of bike trails on-site and easy access to regional bike trails nearby.
Bexley in Tampa, Fla., Nexton in Summerville, SC, and Riverlights in Wilmington, NC, are Newland communities that offer Del Webb Sun City projects that provide community residents with extensive built-in amenities, including residents-only clubhouses that allows for indoor/ outdoor recreation with heated pool and spa, extensive fitness center, and multi-use space for clubs and socializing. For those wanting outdoor sports, there are courts for tennis, bocce, and pickleball.
Home shoppers that are 55+ also look to sustain an active, outdoor lifestyle that allows for aging in place in one-level homes with options to customize and add premium finishes. At Inspiration in Aurora, Colo., Newland worked with Toll Brothers and Lennar to bring new collections of innovative single-level homes to the community, including multi-gen floor plan options.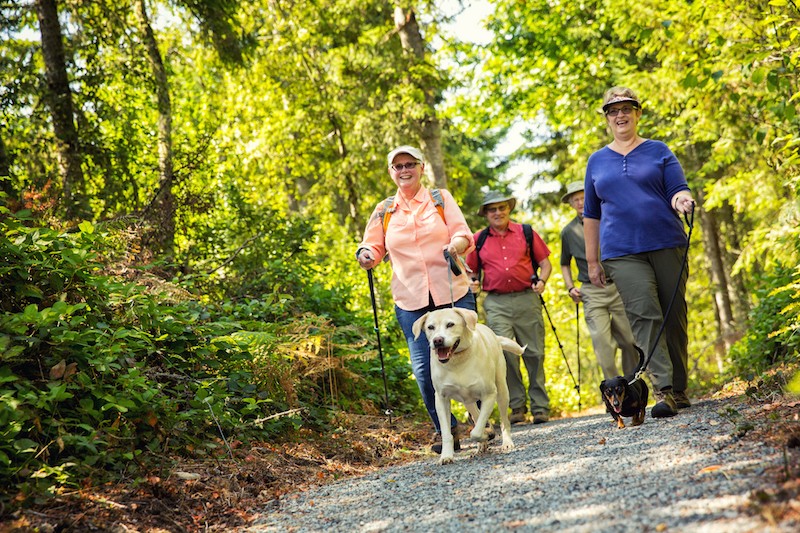 Natural Open Space is a Key Community Design Element
In this time, access to open space for distanced recreational walking, running and biking is a particularly prized community amenity. In the Pacific Northwest, Newland's Tehaleh, overlooking Mt. Rainier in Bonney Lake, Wash., is designed to provide residents with access to natural forest areas and Mt. Rainier vistas from throughout the community. This community intentionally puts nature at the center of the community for 55+ buyers at Trilogy at Tehaleh, by Shea Homes. At Tehaleh, builders have adjusted their strategy to emphasize open space, designing indoor-outdoor living homes that connect to wooded areas. If a natural desert backdrop is your preference, Estrella, located outside of Phoenix, Ariz., revs up outdoor activities with bike trails and hiking within the community and in adjacent Estrella Mountain Regional Park. The CantaMia 55+ community at Estrella has access to exquisite sunsets and stargazing in light pollution-reduced skies.
For Newland, our focus on being healthy, staying connected, and remaining resilient— it's what inspires us to create 55+ communities like no other.
Peter Dennehy is vice president of customer and market research for Newland.