Baby Boomers Have Big Budgets
Affordable luxury is about knowing what every opportunity costs, and maximizing it.
By Josh Kassing
We may be in the middle of a pandemic, but people are still buying homes and upgrading to larger rental residences—including baby boomers. Thanks to their sheer numbers and substantial economic power, boomers' wants and needs are becoming a driving force in much of the commercial interior design work we're doing at the moment for new home developments and multi-family projects.
Given the numbers, it makes sense. Boomers account for 22% of the U.S. population and control 57% of all U.S. household wealth—compared to 3% and 16% of wealth for Millennials and Gen X respectively. All generations have been impacted by COVID-19, but boomers' wealth gives them an edge over other generations and has enabled them to influence how we are navigating the "new normal," says market research company IRI Worldwide.
For many boomers, that "new normal" includes nice homes with the bells and whistles they want. That may mean a bit more space, better finishes, high-end kitchen appliances or impeccably executed outdoor areas thanks to the fact that home became a refuge during the pandemic. All generations have found the benefits of home so comforting and indispensable that they've been inspired to push their budges a bit further, according to Forbes. But boomers have bigger budgets to push.
Thanks to those budgets and other mitigating circumstances—falling home prices, rents and mortgage rates from the economic fallout of the pandemic—boomers have even more reason to buy or rent residences that have exactly what they want right now. Homes sales are booming among Americans who have savings, stable jobs and good credit scores at the moment, notes the Washington Post.
But all this begs the obvious question: what do boomers want right now? Not necessarily the same things that have been popular in the past few years, such as sumptuous stone finishes that require meticulous upkeep and state-of-the-art chef's kitchens that remain unused. Thanks to the experience age affords them, which has been reinforced by going through yet another crisis that foretells a new reality about life for all of us, boomers are pragmatic, IRi notes.
Boomers are the generation that first gave rise to the notion of pushing boundaries. To them, bells and whistles mean better spaces, logical luxuries and everyday amenities. Here are five strategies that make projects targeted to boomers not only more attractive but boost occupancy rates.
Make it affordable but luxurious: What constitutes luxury is constantly recalibrating based on the nation's mood of the moment, our economy and a homeowner or resident's locale. Thanks to the extenuating issues of the pandemic, and the fear it may linger or the potential of repeats, boomers are over overt luxury. Yet they also want "more"—dedicated spaces for work, entertaining, guests and hobbies; natural stones and woods; high-quality fixtures and finishes; and more. Fortunately, good design isn't about spending the most money, and outstanding materials can be sources at sensible price points.
Maximize layouts for function and flexibility: Right now, we're in a unique place thanks to COVID-19, and boomers' lives have shifted. Some have seen their adult children move back home out of necessity. All find space more important than ever as they've sheltered in place and come to realize this can happen again. They want spaces that can be used for everything from guests and children to crafting and fitness, and a bit more square footage can go a long way with the right layout. Not too much space though, which gives boomers too much to take care of. Huge rooms—from owner's suites to kitchens—and walk-in showers and closets that don't maximize every square inch are out, as well as spaces that can't do double-duty.
Create curated palettes of finishes: There has long been a perception that matching finishes are more sophisticated and luxurious. No longer. In fact, they can often seem institutional and lackluster.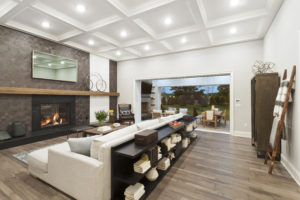 But bespoke options can indeed add up. Instead, and to take advantage of economies of scale, we curate palettes of high-quality finishes that include subtle shifts in texture, sheen and depth, and offer colors that are targeted to an area's market. Higher levels of contrast tend to appeal to males, while females prefer the opposite—a lighter palette with a more neutral aesthetic. As we skillfully and intentionally mix high-quality finishes and materials we end up with richer, more dynamic palettes.
Use architectural elements to create the right balance and proportion: Boomers want a sense of luxury in their homes, and to create an ambiance that is not based on any specific style yet is authentic. Spaces must be designed holistically, everything is based on proportions, which becomes even more important when it's necessary to make every square inch count. While there are many ways to achieve balance, we find that walls are easier to address than floors and ceilings by using trims, wallcoverings and other applications. And ceilings are often the forgotten child in a home. Walls and ceilings are the unifying features in a room, so we focus on those elements first and the features that will give them depth, dimension and decorative gravitas.
Go a little wild for a high decorative return: Pick a few key areas for signature gestures that are truly extraordinary, but don't overdo it. For example, coffered ceilings throughout a home make what could be unusual ordinary. Some features must step back; everything can't be the star of the show. Spectacular fixtures over an island need decorative breathing room; that island must reflect a simpler aesthetic. Also, it's critical to keep the cost-to-impact ratio in mind.
Affordable luxury is about knowing what every opportunity costs, and maximizing it. It seems so simple, but it's truly a balancing act that requires thought, knowledge, acumen and excellent pricing.